Rent Self Storage Units, Boat & RV Storage in Helena, MT
Our larger units are designed to cover all of your storage needs, including your RV, camper and boat.
Sizes we have available include 14x40, 14x35, 12x30, 10x20, 10x15, 10x10, and 5x10, plus outdoor parking.
If the unit size you want is not listed below, give us a call and we can add you to a waiting list.
* A security deposit is required for all indoor storage units.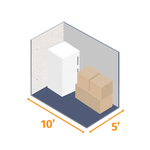 5 x 10
About the size of a walk-in closet. This can fit furnishings of a mid-sized bedroom, including a queen-sized bed, a dresser, a TV and several small to medium-sized boxes.
Parking (15 x 40)
Outdoor Back-In Parking