Rent Self Storage Units, Boat & RV Storage in Helena, MT
Our larger units are designed to cover all of your storage needs, including your RV, camper and boat.
Sizes range from as large as 14x40 down to 5x10. Available sizes are shown below.


* First full month rent due at time of rental *
Rent is due on the 1st of each month. Second month's rent is prorated for the remainder of that month.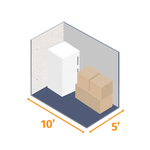 5 x 10
About the size of a walk-in closet. This can fit furnishings of a mid-sized bedroom, including a queen-sized bed, a dresser, a TV and several small to medium-sized boxes.
10 x 15
A little smaller than a one car garage. This could fit the contents of three bedrooms and larger items such as a piano, couches, tables, or large-screen TVs, plus several medium to large-sized boxes.